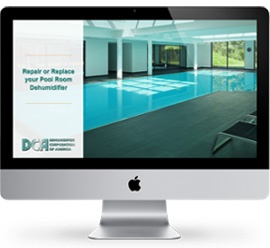 When it comes to pool room dehumidification, we often hear the same question: "Should I repair OR replace my pool room dehumidification unit?"
Our team of experts here at DCA put together a free webinar to help explain the benefits and drawbacks of both. Other topics covered include:
Major warning signs that your dehumidification unit is failing
Questions that will help you uncover if you should repair OR replace your unit
Considerations when selecting a new unit
How to create a proper maintenance plan
To help you discover which option is best for you, simply complete the form to access the Pool Room Dehumidification Repair or Replace Webinar.